Are your promotional materials producing the results you want? Need new ideas? More effective--and do-able--strategies? Could you use time- and cost-saving design shortcuts?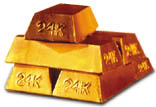 Discover the "Gold Mine of Great Design"
How to communicate in print and on screen!
For every level of desktop publisher, editor or administrative assistant!
STRIKE A SIZABLE CLAIM:
Customized makeover workshops from YOUR samples:
From newsletters, brochures, flyers, posters, display ads, reports, proposals, manuals, post cards, mailers, catalogs, booklets,handbooks, training and presentation materials -- even PowerPoint slides.
Discover how to:
Create a profile of your target audience
Write and place content that gets read
Master the practical techniques of graphic layout, typestyle fonts and color psychology
Save time by using 9 powerful shortcuts
Produce a finished product that has a professional look, feel and gets results!
Audiences include:
Abbott Laboratories
Association of Home-Based Businesses
Beverly Hills Bar Association
California Computer Expo
CareerTrack Seminars, Int'l
CareerTraining International Ptd Ltd, Singapore
Computing Connections
County of San Diego Health & Human Services
Danville Development Corp.
Evangelical Churches of America (Synod)
Hong Kong Baptist University
Institute of Business Appraisers
MailCom Annual Conference
Mailorder Gardening Association
Missouri Lutheran Synods
Nth Generation Computing, Inc.
Philip Morris of Asia, Hong Kong
ProTec Building Services, Inc.
Singapore Press Holdings, Singapore
Social Security Administration
Symantec Software Int'l Norton Utilities
UC Berkeley
US West
Wisconsin Evangelical Lutheran Synod
Women in Publishing Society, Hong Kong
Proven Design Strategies:
Workshops are customized to your organization and needs -- using YOUR samples for ideas, feedback and on-the-spot makeovers!
Participants gain immediate application of skills, techniques and shortcuts.
Tap into the "Mother Lode" of desktop design programs. Top-rated speaker, trainer and workshop facilitator Sheryl Roush shares golden nuggets from 25 years in graphic design, photography and printing. She is a trained commercial artist and has owned five graphic design studios. She has received numerous graphics and printing awards, including four international honors for newsletter design. Sheryl is the author of five books on this topic. University California Berkeley commissioned her to author and present a full-day course How to Design Dynamic Marketing Media which received their highest "excellent" ratings. She gives presentations throughout Australia, Canada, England, Hong Kong, Malaysia, Northern Ireland, Singapore, Puerto Rico and the US. Participants have received both awards and professional recognition for their publications as the result of using the proven techniques in her programs. One even received a promotion!
Best as a full-day workshop with makeover activities for maximum benefit
Related Topic Titles with Sheryl Roush:
How to Create High-Impact Training Tools
Team Communication Tactics
Communicating with Charisma & Confidence
Assertive Communication Skills for Professionals
Interpersonal Communication Skills
Powerful Presentation Skills
Train-the-Trainer
How to Be a Better Communicator
Designing effective PowerPoint slides
Schedule Sheryl today for your Solid Gold program!
Conferences · Retreats · Consultation · Full Day & Half Day Workshops
EXERCISES INCLUDE:
Design makeovers of your current printed pieces
How to begin a design - what's needed and why
The "Golden Guide" to what-goes-where, and why
BONUS:
38 promotional words proven to attract readers' attention
Award-winning headlines and how to write them
5 ways to get creative -- even when you don't feel like it!
9 ways to boost direct mail response from your direct mail
PROGRAM RECOMMENDATIONS:
To gain the most benefit from this program - schedule Sheryl for a full-day.
May be used as a conference break out session of one hour - specific to one topic (Newsletters, brochures, slide or flyer design)
ALSO AVAILABLE:
Master of Ceremonies
Voice over Announcing
Fashion Shows
Sales Pep Rallies
Retirement Parties and Roasts

"In my corporate life, I oversaw print advertising for many years but darned if I didn't take several pages of notes in your presentation. It was really good stuff!"
Don Blohowiak, President, 1999-2000 Liberty Bell Speakers Association
"Congratulations on a wonderful Super Session. I heard a number of wonderful recaps of your session. Folks commended the wealth of useable information you dispensed."
Craig Harrison, Program Chair National Speakers Association, Northern California
"Just a quick note to let you know that I continue to appreciate your graphic design wisdom. I'm amazed at how I keep learning new things!"
Sarita Maybin, Professional Speaker
"As a speaker my credibility is reflected - enhanced or diminished - by the visual quality of my support material - my newsletters, handouts, one-sheets and brochures. Sheryl's insights, techniques, and PRACTICAL wisdom give me confidence and save me money, time, and aggravation."
Christopher Witt, Witt Communications
"Your reputation had proceeded you, but I don't think that anybody was prepared for the level of presentation that you provided. You shared tips, hints, and secrets on how WE could become great. The feedback received was one of the best, if not the best, we have ever received."
Mike Rounds, National Speakers Association Greater Los Angeles Chapter, Masters Track
"Sheryl was vivacious, offered a wealth of knowledge and was very practical. Everything we hoped for!"
Gary Baumler, Wisconsin Evangelical Lutheran Synod