Sparkle-Tude!TM
Keeping a Sparkling
Attitude Every Day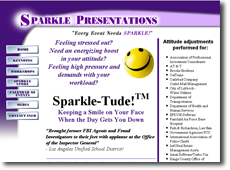 Stay sane and lighthearted in stressful times—67 ideas!
Deal with difficult people and challenging situations
Reduce stress, increase fun and beat burnout
See Sheryl in Action! Click here for a 1-minute streaming video movie (It may take a moment to load, please be patient. See more details below.)
Perc-U-Lating Power
Putting Passion & Purpose
Back in Your Life!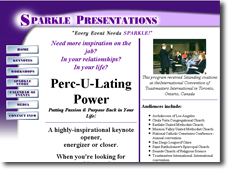 Reclaim your sense of FUN, creativity and playfulness
Get—and stay—focused on things that really matter
Re-passionize yourself and stay youthful, vibrant and grateful.
Video Clips

See Sheryl in Action
Watch Sheryl give the closing address to 5,000 women at a sales convention, and more!
See Sheryl`s video clips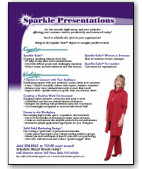 PDF Flyer
Downloadable one-sheet PDF flyer promoting Sheryl as a keynote speaker and author of two new "Heart" books.