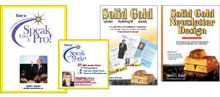 Includes
227 Pages
27 mp3 Audios
14 Handouts
2 Books
2 DVDs
1 CD
1 Coaching Hour
Value: $625

How to Speak And Market Like a Pro - 4 Bundle + One Hour Coaching
Accelerate Your Success!
Enhance Your Public Speaking Skills!
Build Your Speaking Business & Get Paid!
Increase Response from Your Promotional Efforts!
Make More Money!
Hear Live Presentations and follow along with the Handouts
Target your ideal paying audiences/clients and share your passion with the world
Gain insights into branding, advertising, marketing and designing your promotions
Design professional looking Speaker One-Sheets that grab attention and get you hired
Learn tips to Sparkle When You Speak!™ including how to reach all listening styles
Enhance your public speaking, sales and training techniques for lasting learning
Strategies and tips to create your own products to sell, and publish your own books
Insights into earning Toastmasters "Accredited Speaker" professional designation
SHIPPING:
Bundle items are shipped FREE inside the USA.
IDEAL FOR TOASTMASTERS, and any level of speaker, presenter, lecturer or coach/consultant.
COACHING:
Includes One Hour of Telephone or Skype coaching with Sheryl Roush.
$625.00
$497.00