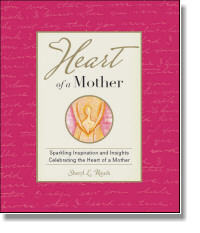 Scroll down for back cover
Excerpts
Table of Contents
10 Ways to Open Your Heart
96 SECTIONS CELEBRATING
A Mother's Intuition, Mother's Day, Grandmothers, Daughters, Sons, Adoption and Foster Children, Mothers of Military, Four-Legged Children, Pregnancy, Babies, Being a Mother, A Woman's Wisdom, Dinner time, Family, Fathers, Motherhood, Stay at Home Moms, We're Goin' to College, When Your Mother Passes, Women in Religion, Working Miracles…

Heart of a Mother
Want to show Mom that you truly appreciate her?
Heart of a Mother is a gift book filled with touching tributes to Mothers and Grandmothers, inspirational short stories, poems, proverbs and quotations.
A perfect gift for Mom: from mother's birthday to Mother's Day, as an extra anniversary present, or any day a special thank you is in order. Great gift for new mothers and at baby showers... Give her something for her!
Inspirational short stories, original poems and cherished quotations, celebrating those precious relationships with our mothers, grandmothers, babies, sisters, daughters, sons... Ideal for your Mother, Wife, Grandmother, and YES — your Mother-in-Law!
Now also available with a bonus music CD! Get the book and CD together for just $19.95!
| | | |
| --- | --- | --- |
| $16.95 | | |
Kindle Edition eBook available here, http://www.amazon.com/Heart-of-Mother-ebook/dp/B00CLRRBKW
"As a child, my Aunt Della was like a mother to me who nourished me with her chocolate chip cookies. I remember the warm feelings when I smelled a batch of her fresh baked cookies. In Heart of A Mother, Sheryl Roush and her contributors have captured those same kinds of feelings, feelings that will warm your heart and bring your 'mother' close again. It's a great read."
Wally Amos – The Cookie Man and Author, Be Positive
"Heart of a Mother is an exquisite tapestry of stories, quotations, songs, and poems that will pull on your heartstrings. A must read and an incredible gift for all the mothers of the world!!!"
- Lisa R. Delman, Author of Dear Mom, I've Always Wanted You to Know
MOMMY BLOGGER BOOK REVIEW:
Review by Shannan Powell, From Cribs to Car Keys
"Heart of a Mother, written by Sheryl Roush, is a wonderful compilation of stories and inspiration for and about mothers and grandmothers. I have not yet had the opportunity to read the entire book, but what I have read is beautifully written, heartwarming, and enjoyable. Some of the excerpts I read brought back wonderful memories of my mother, whose loss I am struggling with this Mother's Day.
"One of the stories that I identified the most with was "Family Circus Christmas," a tale of a mother trying to be June Cleaver and ending up a bit more like something from a comic strip. I have been there so many times, myself. Wanting life to be just so and feeling as if I had failed, when everyone around me was just as happy as could be with my efforts."
RAVE REVIEWS ON AMAZON:
"Sheryl Roush has done it again! In this book, she combines her own prose with contributions of mothers from around the Globe. Her style in editing creates a warmth and flow that elicits chuckles, sighs and tears at all the right times. Having purchased Sheryl's works before, this was a "must have" on my list. In my opinion it's better than "Chicken Soup" for my soul!"- Effie Neesehorning
"Filled with wisdom, inspiration, love and tenderness, Heart of a Mother is a book that will have you laughing, crying and appreciating, while recognizing the importance of mothers. It's a perfect gift for mothers of all ages, including mothers-to-be! Just a wonderful tribute to the women who put their heart and soul into being a mom. Sheryl's heart series just keeps on delivering the goods!" -Linda Salazar
| | | |
| --- | --- | --- |
| $16.95 | | |