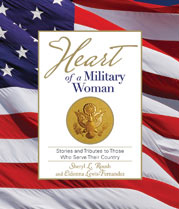 Chapters:
It's Who We Are
Guess What? I Enlisted!
A Day in the Life
Blessings From Above
From the Journals
Gold Stars
Honoring Our Veterans
Humor in Uniform
It's All in the Family
Living the Dream
Military Brats
Military Moms
Missions
On the Home Front
Passion, Purpose & Patriotism
Romance in the Ranks
Setting the Bar
Souls Are Called: Living with Loss & Grief
Times Sure Have Changed
Trailblazers
Tribute and Accolades
Wisdom
With Love, Your Family


Heart of a Military Woman
Stories and Tributes to Those Who Serve Our Country
Heart of a Military Woman is a keepsake collection of true short stories, touching tributes and emotive poems, celebrating our active and retired service members. Historic, nostalgic and some quite recent, these are written by military members, their families and loved ones, sharing sentiments and pride as only they can.
Swell with pride and feel Red, White and Blue all over as you read from such chapters as:
· What Was it Like?, A Day in the Life, and On the Home Front
· Enlisting, Recruitment, and Romance in the Ranks
· Humor in Uniform, Setting the Bar, and Trailblazers
· Blessings from Above, From the Journals and Wisdom
· Gold Star Mothers, Living with Loss and Grief
· Honoring Our Veterans, Tributes and Accolades
· Military Brats, Military Moms and Missions
These are real stories, from real people, about real life.
She is a tough and formidable opponent... Yet her heart will soften and swell with pride as she looks at Old Glory or the men and women and children she serves and protects... Her heart aches for home and her loved ones, especially when she is far away... She is amazing in her ability to adapt, overcome adversity, do whatever it takes and still dance the night away if given a pair of heels, a dress and music. She laughs deeper, loves harder and her heart knows no bounds. That is the heart of a military woman.
- Debra Ann Ristau, USARNG Photo-journalist, California Army National Guard, Mother of a U.S. Marine Daughter
Endorsed by Montel Williams, hear his interview with Sheryl Roush on Montel Across America, December 4, 2009
Best Spiritual / Inspirational book for 2009 from the San Diego Book Association Awards.
Kindle Edition eBook available here, http://www.amazon.com/Heart-Military-Woman-Book-ebook/dp/B00946EWN2

Rhonda M. Lawson, U.S. Army, Sergeant First Class


288 pages
Trade Paperback, 6x7"
Inspiration/Business/Self-Help