Do you get nervous when speaking in front of people?
Need to give reports, briefings, presentations?
Trouble organizing your thoughts and ideas?
Sparkle When You Speak!TM
How to give effective presentations
For every level of presenter and every type of presentation
Discover a new level of confidence in communicating!
Raise your self-esteem and presence!
Organize your thoughts-easily!
Turn that sweat into

SPARKLE
If you've ever needed to stand up and speak out, and were overwhelmed with nervousness, panic or anxiety -- fear no more! This workshop helps you transform that nervous energy into excitement and skilled, purposeful movement. Whether speaking in front of a small or large group -- whether you are a beginner or expert -- you'll pick up simple tricks, tips and treasures to use immediately!
Sheryl Roush is one of only five female "Accredited Speakers" in the world as honored by Toastmasters International's elite award for professional platform presentation style. She is an active member of the National Speakers Association and was selected "Member of the Year"by colleagues for her stellar contributions to the speaking and training industry.
One of her noted accomplishments was serving as the Director of Training for the US Olympic Training Center in San Diego, coaching Olympians in telling their "Going for the Gold" medal-winning stories. She also helped start their Speakers Bureau and trained volunteer speakers.
In addition to speaking across the United States (46 States); Sheryl has presented multiple programs in Hong Kong, Malaysia, Singapore, Northern Ireland, Puerto Rico, Canada and Australia.
Handouts include worksheets, checklists and techniques to make you SHINE!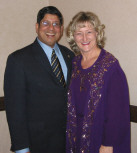 Sheryl Roush, DTM, Accredited Speaker with 2005-6 International President Dilip Abayasekara, DTM, Accredited Speakerl
For information on Toastmasters International CLICK HERE
For San Diego Toastmasters
CLICK HERE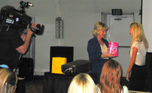 Sheryl Roush coaching San Diego Charger Girls, while NFL Live film crew captures the session on tape!
Audiences include:
Abbott Laboratories
AIDS Foundation - San Diego
American Women in Government
American Women in Science
AmeriCorps
Archdiocese of Los Angeles
Bechtel Oil
CalTrans - Department of Transportation
Camp Pendleton Marine Base
CareerTraining International Ptd Ltd, Singapore
Central California Women's Conference
EKC Technologies
Gen-Probe BioTech Labs
Hotel del Coronado
House of Pacific Relations
Inland Empire Business Journal-Women's Conference
Institute Teknologi Mara, Malaysia
Las Vegas Metropolitan Police Dispatchers
Los Angeles Unified School District
National Rural Water Association
National Speakers Association
Naval Training Center - San Diego
Pacific Church of Religious Science
Partnerships in Education
Philip Morris of Asia, Hong Kong
RJ Donovan Correctional Facility - State Prison
Salk Institute
San Diego Charger Girls
San Diego Gas & Electric/ Sempra
San Diego Museum of Art Docent Council
San Diego Yacht Club
San Diego Zoo
Scripps/Mercy Hospital
Society of Architectural Administrators
Solar Turbines
Toastmasters International
UC-San Diego - Foreign Exchange Students, 26 countries
Unity Church
U.S. Marine Corps
U.S. Olympic Training Center
You will learn:
To apply the 7 significant secrets of speaking
To structure, organize, and energize any presentation
To create and use visual aids to persuade, inform and motivate
20-second grabber openings to capture attention
Dynamite closing remarks - and call to action
Delivery skills - voice, body language and facial expression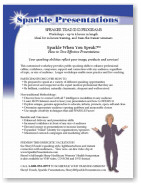 Printable Brochure
Click here to view or print Sheryl's one-sheet color brochure describing her Sparkle When You Speak presentation.
PROGRAM RECOMMENDATIONS:
Conference break out sessions, retreats Half-day, full-day and two-day workshops. Minimum time allotment: one hour.
Contact Sheryl to speak to your organization!
ALSO AVAILABLE :
Master of Ceremonies
Voice over Announcing
Fashion Shows
Sales Pep Rallies
Retirement Parties and Roasts
Related Topic Titles with Sheryl Roush:
How to Create High-Impact Training Tools
Team Communication Tactics
Communicating with Charisma & Confidence
Assertive Communication Skills for Professionals
Interpersonal Communication Skills
Powerful Presentation Skills
Train-the-Trainer
How to Be a Better Communicator
Designing effective PowerPoint slides
Solid Gold Design